<!#-- DETERMINE THREAD OR REPLY --> <!#-- GET THE MESSAGE ID AND DATA, EITHER WAY --> <!#-- ASSIGN MESSAGE AND AUTHOR QUERIES APPROPRIATELY -->
Eva
<!#-- DETERMINE THREAD OR REPLY -->
Dear all,
I'd like to annotate my hbar graph and plac an image over the graph with the help of the annotate function image. I have an image which is 544x15 pixel in width x height. My graph is 800px wide (I use goptions xpixels = 800). Now I'd like to position the image over the graph by using this pixel information. Something like: position it here: from x=10px, y=5px to x=554px, y=25px. Can I do that?
(The problem is that xsys and ysys are either in cells or percent - I'd like to position the image under the x axis. I tried it with percent but the result doesn't look nice.)
here's the original image:
and that's the result:
As you can see there are little red dots and the smilies get worse on the right. I guess SAS tries to strech the image (which is a png) as I use xsys="3" (percent). That's why I'd prefer using pixels.
That's my annotate code: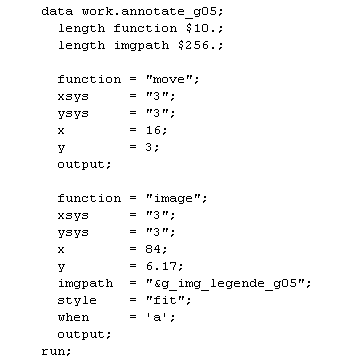 Best wishes
Eva